The EOFY Great Big Cheese Giveaway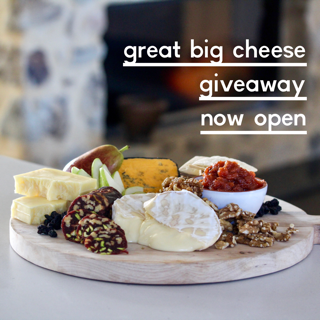 Duration: 8 Hours (approx.)
Location: Hahndorf, SA
Product code: Promotion
The 2019 EOFY Udder Delights Great Big Cheese Giveaway Now On!

We're releasing 500 packs of delicious premium cheeses that we hand make at our Lobethal based cheese factory.


These packs cost $24 each – each with 6 cheeses in them. So that's a tasty $4 per cheese!

This pack is worth a total of $52, you pay less than half at $24 and we'll give you the rest for free – which is a combined value of $14,000 worth of free cheese hitting the streets of Adelaide.

In this pack, there is a great selection of 6 cheeses:

1 x Udder Delights Ash Brie 200g – One of our newest cheeses that has a striking layer of black ash under the downy white surface rind. You can serve this on a cheese board at room temperature or do what we did in our monthly recipe feature – bake it in a cob loaf and serve with chutney. Recipe soon to follow! They usually retail for $9 each. It has a best before of 10th July.
1 x Udder Delights Triple Cream Brie 180g – triple the goodness with extra cream poured in before we make this decadent cheese. Perfect for a simple dinner on a cool winter's night – serve with fresh pear, crusty bread and some prosciutto. Decadent much. They usually retail for $9 each. It has a best before of 17th July.
1 x Divine Dairy Organic Double Cream Brie 200g – This surface-ripened cheese is made using Langhorne Creek sourced organic milk. This cheese is ripe and ready to eat where you will enjoy the soft and creamy texture, lovely mouth-feel and earthy mushroom flavours. It
is a versatile cheese that is a great addition to a platter and also lend itself well to other recipes. I discovered a Brie Toastie this week - OMG. If serving on a cheese board, ensure to serve it at room temperature. They usually retail for $9 each. It has a best before of 10th Ju
1 x Cremeux Blue Cheese 160g – This wedge of blue labelled 110g but is actually 160g. It is super creamy and fruity with a well-developed flavour and is sure to win over someone who is a bit unsure about blue. Being Winter be sure to pair it with a fortified wine while sitting in front of a toasty fire and ensure that it's served it at room temperature. It usually retails for $9.00 each. The best before is 14th July.
2 x Udder Delights Goat Curd 200g –Goat Curd is a mild, creamy and tangy pot of spreadable goat cheese. Its delicious all on its own, but there is a myriad of uses for Goat Curd. You can spread it onto bruschetta, dollop it into frittata and quenelle it on top of pasta – one of my favourite easy dinner recipe links is here: www.donnahay.com.au/recipes/fast-weeknights/tomato-chorizo-and-goats-curd-frittata
It usually retails for $8.00 each and its best before is 3rd July – it also freezes well if you're going to cook with it.
Payment Details

To secure your order you will need to pay online for it - there is a small booking fee of approx. 60c per pack charged by the online booking service provider. You will receive an immediate email confirming your order. You will also receive a reminder email the day before pick up too.

Pick Up Details


Pick up is this Saturday 15th June from Udder Delights Cheese Cellar, Hahndorf - 91a Main Street. We are open from 9am to 5pm. (You can call on 8388 1588 to arrange a Sunday pickup if needed - however we only have a limited amount of spare fridge space so it will be first in best dressed).

We're also running a cheese making class in Hahndorf this Saturday – so let us know if you'd like tojoin us while you're there.